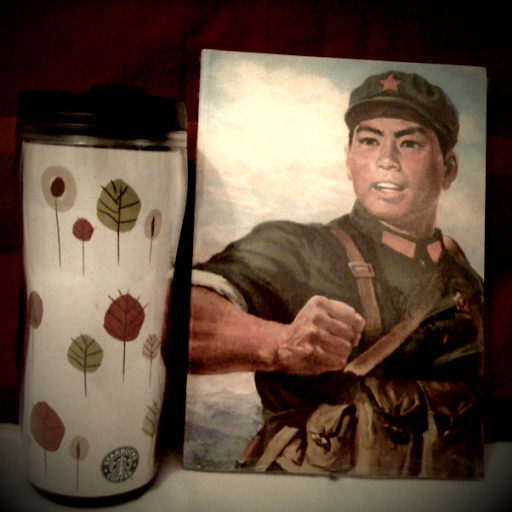 Picked up a couple of nice things at the Fort this evening... Went there with my Folks and the we'ans to give Olly some piece and quiet (she had
some cards to make
) and give me something new to look at.
The magazines in Borders were a bust... can anyone recommend an interesting / inspiring magazine? MONOCLE rocks but thats about it... well that and MOJO (most of the time).
What I did like was the Starbucks tumbler and the Chinese notebook (above) I found.
I've wanted to convert to a tumbler for a while now... I want to reduce and reuse as much as I can... and I am also "tight" - Starbucks reduce the cost of a cuppa by 25p if you bring your own cup - I only need 23 cuppas to break even! so it'll start paying for itself in a month or so. I like the graphic too... its my kind of abstract.
Thing is... I had a d'oh moment. You get a free cuppa when you purchase the tumbler. I didn't know this when I bought a round for my peeps... and then ended up with a second chai latte (and a nagging caffiene headache) when I bought the tumbler.
Recommend you get one: save money... and do your bit to reduce your impact. Makes sense to me... although you can get cheaper cups.
As for the notebook... it was £1.00 in the Paperchase sale... half the pages are lined... half the pages are blank... and it has these interesting Chinese Propagandaist graphics front and back. Will be interesting to pull that out in "church circles" :-)
Picture posted with
LifeCast
... thoughts added later.