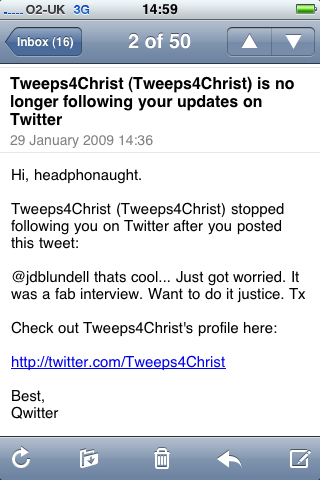 Maybe I wasn't reppin' the big JC or say "yo" enough???
To be fair... I didn't reciprocate the follow. I'm a wee bit tired of folk "broadcasting" the Gospel... and am quietly content doing my bit under the radar... one relationship at a time.
What it does show is an annoying pattern of tweeps following people just for quantity (numbers of follows) not quality (interesting / relationships). I follow tweeps because they are either interesting or I have a relationship with them... mostly its a "both" scenario with my core group of tweeps being people I am deep friends with whose lives interest me.
Maybe that's what it means to be in this world but not of it...
Screendump posted with
LifeCast
... thoughts added later.