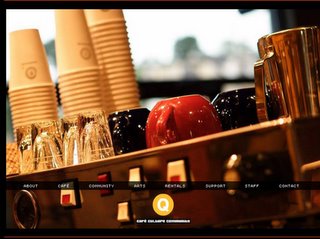 Check this out... Another inspirational adventure in taking church to the community... Followed a link from
David's Wordful
to
the Q cafe
in Seattle... Similar set up to Freeway - focus on giving something new back to the community and trying to make church relevant to ordinary people. Fantastic! Check out their goals:
A new and unique non-profit Cafe and community center in the Interbay area, embracing "Cafe, Community and Culture," celebrated its grand opening in November 2002. But unlike its many Seattle coffee business predecessors, this non-profit Cafe and organization is ready to pour something new and refreshing back into the community. Since officially opening its doors in November, 2002, QCD (Quest Community Development), a 501(c)(3) organization, has integrated its goals, visions and mission through the following:

1. Supporting artists and musicians by displaying local artists' work in the cafe and by operating as a music venue to showcase musicians' talents
2. Adopting local families by responding to their physical and emotional needs
3. Providing a resource center for the displaced and marginalized in our community
4. Implementing activities to help build "community" amongst neighbors
5. Helping raise funds for other non-profit organizations
6. Creating a space welcoming of families, with a special corner and playroom just for children, and finally,
7. Serving the best coffee in Seattle.
We need to do this in Scotland... We need to reach out to ordinary people through music and art and great coffee... and
just love them
. I am delighted that Q are doing it in Seattle - kudos to them! What about us? Kog is happening. Let's follow this inspiration and instead of planting churches...let's plant coffeehouses.
Thanks David for the heads-up!