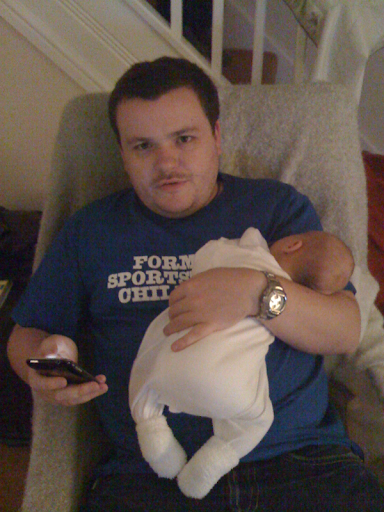 Went to see Janey and Nathan after our "safe and sound" training. Janey was watching our girls (who will return the favour in a few years) and we wanted to check on the wee man.
He was unsettled but 10 mins in my arms with "bonny baabaa" and he was snoring like his mother (Janey snores like a walrus with asthma!) I have to say it feels good to know I still have it in me to get a we'an off to sleep.
I also find it funny that my rotund tummy comes in handy... allowing me to check my stuff on my iPhone.
All that aside... Olly and I are delighted to see him come on... get rid of the jaundice... and gain weight. He's over 8 pound now... which is fab.
Kind of blurry picture posted with
LifeCast
... text updated later.